Original club members at the 1999 annual general meeting.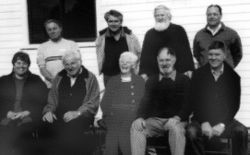 Backrow: David Payne, John Berry, Dave Waters, John Treanor.
Front row: Allison McCarthy, Stewart Marshall, Barbara Marshall, Mike Meads, Shaun McCarthy
The following is official account of the first meeting of what was to become the Morris Enthusiasts Car Club; see account by Shaun McCarthy for the background lo this meeting.
The Morris 8 Tourer Club of New Zealand Inc. Wellington Branch.
The Inaugural meeting was called together on Sunday 8 June 1980 at 24 Conclusion Street, Ascot Park, Porirua.
Following intense and varied interest together with very hot telephone lines those who indicated their interest started to arrive in Morris Eights and more modem vehicles shortly before 1-00pm. By 1-40pm we had assembled enthusiasts from not only the Wellington area but also from: Feilding – John & Robyn Berry, Masterton – Peter & Stewart Pickett, Carterton – Rodney Baxter and from Martinborough – Hugh Hunter.

Special thanks to those people who took the trouble to come and join those from the Wellington area to form our Branch of the Morris 8 Tourer Club of New Zealand Inc.

Apologies were received from intending members who were unable to attend: Arthur & Irene Hall of Wadestown, Terry Beresford of Masterton, Robert (Bob) Parker of Wainuiomata, and John Treanor of Waiouru.

There were some people who for unknown reasons did not turn up but we hope to contact these people and follow up their interest in Morris Eights.
Meeting Minutes:
Meeting finally started at l-45pm with all those present obviously very enthusiastic, and eager to tie something together. Open discussion followed basic aims and objectives of the club were laid out. Items covered were: Basic objectives we see here in Wellington District; how we hope to help each other with spare parts, information and advice; together with full participation in Club activities. The discussion of Club Officers resulted in a proposal being put forward to form a steering committee for the first six months of club life; this will be reviewed after this time. This was proposed and voted unanimously by the 36 attending. With this completed formal selection of the club officers followed. These were proposed and seconded by various members in attendance.
President:Roy Salmon
Secretary:Shaun McCarthy
Treasurer:Roy Salmon / Shaun McCarthy*
Editor of Newsletter for Wellington! Christchurch correspondence:Roy Salmon
Historian:Mike Meads
Parts Coordinator:Dave Waters
Committee:Kevin Troy, Stewart Carkeek, Elmar Gailits.

* This joint situation was developed for the steering committee period of office.
Note: the position of Historian was proposed, seconded, then voted unanimously: this will enable the club to fill most requests for information on Morris 8's as years go by.
Subscriptions:
After completing this task we all discussed in open discussion annual subs and branch levy: Following suggestions of annual subs: $7-50-$9-00 and a new membership fee of $5-00—$6—0O discussion led to the annual subscription being set at $10-00 and new membership fee $6-00. This was voted unanimously by all present.
Directly after this all queried the proportion of money to be passed on to Christchurch. Despite pressure regarding this area of concern on behalf of Christchurch, the meeting resolved to forward only 40% of annual subs and 50% of new membership fee south.
Coming Event:
After the meeting settled down suggestions were called for regarding our first run, to take place in mid – July for all registered and warranted Morris vehicles, preferably Morris 8's. Suggestions received will be considered by the committee at its first meeting on Thursday
12th June, and all interested will be advised with plenty of time to prepare.
Correspondence:
Shortly before the meeting concluded those present were advised that membership application forms will be forwarded out to all those who are interested in joining the Wellington Branch of the Morris Eight Tourer Club of NZ Inc. Please forward all correspondence and queries to the President at the registered address of the Morris Eight Tourer Club of NZ Inc, Wellington Branch.Mr Roy W. Salmon,
24 Conclusion Street,
Ascot Park, Porirua.
Ph. 58-782 PRO
(The reason for this is the Secretary is soon shifting his address and until this is completed, all correspondence to come to the President). 
Those attending the Inaugural Meeting of the Morris Eight Tourer Club of NZ Inc, Wellington Branch were, in alphabetical order:
Rodney Baxter, Carterton – 1935 Morris 8.
John & Robyn Berry, Feilding – 1936 Morris 8 sports.
Stewart Carkeek, Days Bay – parts of 2 cars.
Geoff & Sandy Collings, Wellington -1947 Morris 8 'E'.
Mark Dashper, Wellington — 1935 Morris 8 Hardtop.
Elmar & Jenny Gailits, Newlands -1938 Morris 12/4.
Hugh Hunter, Martinborough — 1935 Moms 8 Sports.
Stewart Marshall, Tawa — 1936 Morris 8.
Shaun & Allison McCarthy, Lower Hutt – 1948 Morris 8 'E'.
Mike Meads, Lower Hutt – 1930 Morris Minor.
Peter & Mrs Metcalf, Wainuiomata – 1950 Morris Z Van.
Dave & Lenys Payne, Wellington – 1948 Morris 8 'E'/1936 Morris 8.
Peter & Stewart Pickett, Masterton — 1938 Morris 8.
Mike & Vivienne Rathbone, Lower Hutt – 1936 Morris 8.
Roy & Fiona Salmon, Porirua — 1937 Morris 8.
Robert & Liz Taylor, Lower Hutt — 1937 Morris 8 / 1947 Morris 8.
Kevin & Jan Troy, Wellington — Wanting to buy a ragtop.
Donald Waddington, Lower Hutt – 1932 Morris minor 1954 MG TF.
Dave Waters, Wellington — 1946 Morris 8 'E'.
Those who tendered apologies for their absence at the meeting: Robert ( Bob) Parker, Wainuiomata – 1937
Morris 8 Tourer. Terry Beresford, Masterton — Morris 8 in pieces. Arthur & Irene Hall, Wellington — 1935
Morris 8. John Treanor, Waiouru – 1947 Morris 8 'E'.